It's fair to say that some men find their grooming routine a bit of a chore and look for ways to cut down the minutes day-to-day. Our advice team pulled together their favourite tools for men who're looking to save time on their routines.
Men's Grooming Tools
G.E.A.R. Slant Tweezer
£22.00
The G.E.A.R. Slant Tweezer has the same award winning precision as our Classic Slant Tweezer with hand-filed tips and calibrated tension to ensure you catch every hair, every time. Forget wasting time in front of the mirror trying to catch fine brow hair or pluck a few stray monobrow hairs.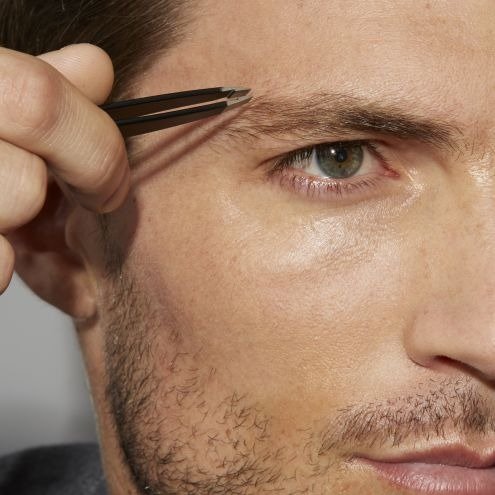 G.E.A.R. Deluxe Shaving Brush
£36.00
Shaving brushes are used to work up a lather for wet shaving and to tease hairs to stand upright and not flat to the skin. The Deluxe Shaving Brush is made from premium quality synthetic bristles that perform as well as natural hair but are more hygienic. Create a rich lather exfoliating skin and preparing the hair for the blade to glide over with ease.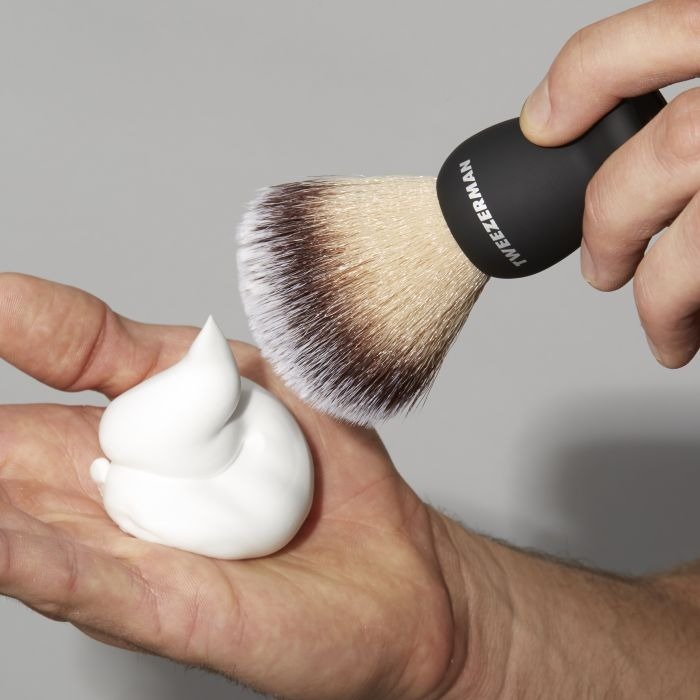 G.E.A.R. Ingrown Hair/Splintertweeze
£20.00
If you find yourself regularly suffering from ingrown hairs from shaving or are prone to splinters, the Ingrown Hair/Splintertweeze's specially handcrafted pointed tips are made for accurate hair removal. The precise pointed tips can get just beneath the skin to lift hairs and make ingrown hair removal easier and pain-free. Made from stainless steel for durability and ease of cleaning.
G.E.A.R. Precision Grip Fingernail Clipper
£13.00
Heavy duty and durable, the Precision Grip Fingernail Clipper has curved stainless steel blades to follow the natural curve of the nail when clipping. The textured handle maximises grip and comfort for precision with a case beneath the clipper to catch any clippings to easily slide away when ready to empty. Comb with the Precision Grip Toenail Clipper for the perfect gifts for him.
G.E.A.R. Precision Grip Toenail Clipper
£15.00
The Precision Grip Toenail Clipper has straight blades to cleanly cut toenails and avoid any splitting so the nail comfortably sits against the toe bed, when wearing socks and shoes. The textured handle creates a comfortable grip and the casing below the clipper makes it easy to catch any nail clippings. Stainless steel blades make it easy for cleaning whilst maintaining durability for regular use.
G.E.A.R. Facial Hair Scissors
£20.00
Our Facial Hair Scissors were designed for trimming beards or shorter facial hair and moustaches, with precision blades for effective removal of hair from the face, nose and ear. The scissors rounded tips ensure safety whilst cutting hair and the smaller design of the Scissors make it easy to move around the contours of the face and neck without cutting or nicking the skin. Made from stainless steel for durability and easy cleaning.
G.E.A.R. Nose Hair Trimmer
£18.00
The Tweezerman G.E.A.R Nose Hair Trimming makes trimming quick, painless and safe for the nose and ear area. The premium quality blades won't pull hair or cut the skin and the clicking motion turns the head of the trimmer to cut hair. No batteries or mains charge are needed for this nose hair trimmer. Comes with a brush for easy cleaning. Take a look at our article on how to use the Nose Hair Trimmer for pain-free hair removal.
G.E.A.R. Essential Grooming Kit
£32.00
A must have set of tools for the perfectly groomed man on the go. The premium quality Facial Hair Scissors, Pointed Tweezerette, Fingernail Clipper and Multi Use Nail Tool are packed together in a Leather carry case for convenience. The Essential Grooming Kit is one of our bestsellers.
G.E.A.R. Travel Fogless Show Mirror
£30.00
Like to shave in the shower but have difficulty with mirrors fogging up with steam? Not any more. The Travel Fogless Shower Mirror easily mounts onto your shower wall with suction cups for convenient shaving. Fill the reservoir in the back with warm water to stop the mirror from fogging whilst shaving or grooming with Tweezers and Scissors. The Mirror itself is optically correct with no distortion and includes a squeegee to remove any water splashes.
G.E.A.R. Travel Tool Essentials Kit
£30.00
Mini versions of our essential grooming products are all packed together in this handy case for maintaining your everyday grooming routine whilst travelling. Includes Mini Slant Tweezer, Mini Skincare Tool, Mini Moustache Comb and the Precision Folding Razor.